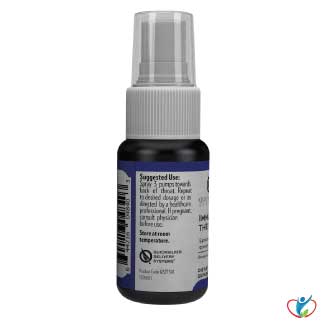 A highly bioavailable zinc-flavonoid ionophore designed to enhance cellular uptake of zinc to rapidly support first-line immune defenses in the throat.

This fast-acting spray combines zinc with quercetin, luteolin, and propolis to help increase intracellular zinc levels in the throat and upper respiratory tract. Perfect for travel, seasonal exposures, and year-round fortification of immune defenses.
Immune Charge+® Throat Spray
Fast-Acting Seasonal Reinforcement
This formula delivers liposomal zinc complexed with quercetin, luteolin, and propolis, which helps significantly enhance the uptake of these ingredients by cells of the throat and upper respiratory tract for fast-acting immune support.
Zinc – Zinc is a micronutrient critical for healthy immune function. It supports robust immune cell activity and mobilizes cytokines, fortifying the body's frontline defenses against microbial invaders. Zinc bioavailability exponentially increases when delivered as a zinc ionophore, a chemical compound that reversibly binds zinc ions and transports them across cell membranes independent of zinc transporters, significantly increasing intracellular zinc levels.
Quercetin – Quercetin is a flavonoid with remarkable zinc ionophore activity. It enhances total intracellular zinc levels while inhibiting zinc toxicity, targeting pathogens, and balancing immune function.
Luteolin Extract – Luteolin is a flavanoid that also demonstrates zinc ionophore activity. It helps stabilizes mast cells and reduces airway reactivity and pathogen-induced inflammation.
Propolis Extract – Propolis is a resinous mixture produced by honeybees. It is a potent immunomodulator that promotes a resilient internal terrain inhospitable to pathogens.
Benefits:
Antioxidant Boost
Enhanced Immunity
Microbial Balance

Vitamins and Minerals

Superior Liposomal Absorption
Immediate Effects
Less Sick Time, Quicker Healing
No fillers, No preservatives, No additives, No excipients.
Free of dairy, yeast, corn, soy, gluten, and GMO-free!
How To Use
Spray 3 pumps towards the back of your throat. Repeat to the desired dosage.
Ingredient Amounts
Serving Size: .54 mL (3 sprays)
Servings Per Container: 50
Name

Amount

% Daily

Zinc (as Zinc Acetate)




0.5mg

5%

Proprietary Zinc Complex

Phospholipids (from sunflower seed lecithin), Zinc Acetate, Quercetin Dihydrate (from Sophora japonica flower), Luteolin extract, Propolis extract

12mg

**
Other Ingredients: Water, Glycerin, Ethanol, Phospholipids (from purified sunflower seed lecithin), Vitamin E (as Tocofersolan), citric acid, natural citrus oils.




**Daily Value (DV) not established
*The % Daily Value tells you how much a nutrient in a serving of food contributes to a daily diet.Q™ is a trademark of DSM2,000 calories a day is used for general nutrition advice.Q™ is a trademark of DSM
Warnings
This product is contraindicated in an individual with a history of hypersensitivity to any of its ingredients.
If pregnant, consult your health professional before using this product.
These statements have not been evaluated by the Food and Drug Administration. This product is not intended to diagnose, treat, cure, or prevent any disease. If pregnant, consult a physician before use.