Low Level Laser Therapy (LLLT)
Experience pain relief and accelerated healing with low level laser therapy at Healthy Beings.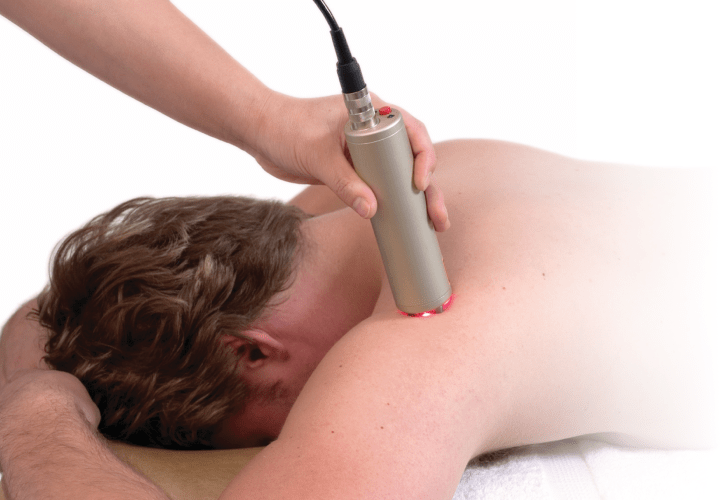 Low-Level Laser Therapy
EXPERIENCE THE POWER OF LOW-LEVEL LASER THERAPY
If you're looking for a safe and effective way to reduce pain, inflammation, and promote healing, low-level laser therapy (LLLT) might be the answer. LLLT is a non-invasive, painless, and drug-free therapy that uses low-power lasers or light-emitting diodes to stimulate cell growth and repair. In this article, we'll explain how LLLT works, how it can benefit people like Sally, and how athletes can use it for recovery after activities.
Low Level Laser Therapy
pain, inflammation, & healing
Introducing our innovative Low-Level Laser Therapy - a non-invasive, painless treatment that uses light energy to improve circulation, reduce pain, reduce inflammation and promote healing.
Pain relief
Faster healing
Increased circulation
Reduced inflammation
Improved range of motion
Non-invasive treatment

Session: 15-Minutes
RETAIL PRICE $30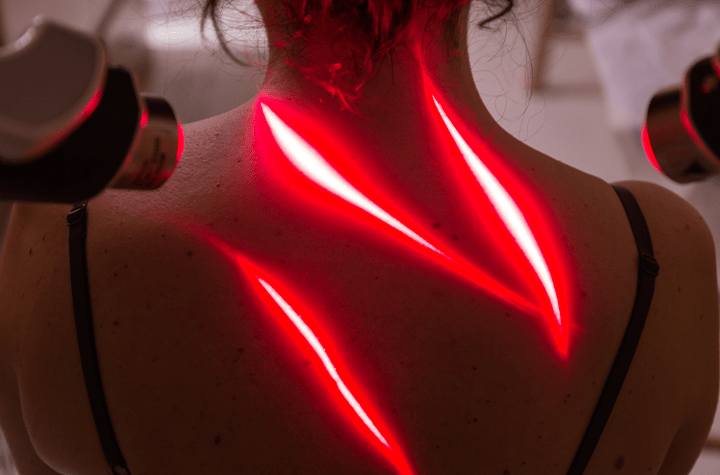 How Does it work?
HEAL FAST WITH LOW LEVEL LASER THERAPY
LLLT works by emitting light at a specific wavelength and intensity, which penetrates the skin and reaches the underlying tissues. When the light interacts with the cells, it triggers a series of chemical reactions that promote healing, reduce inflammation, and increase blood flow to the area. The light energy stimulates the mitochondria, which are the powerhouses of the cells, to produce more ATP, the molecule that provides energy for cellular activities. This increased energy production can speed up the healing process and reduce pain and inflammation.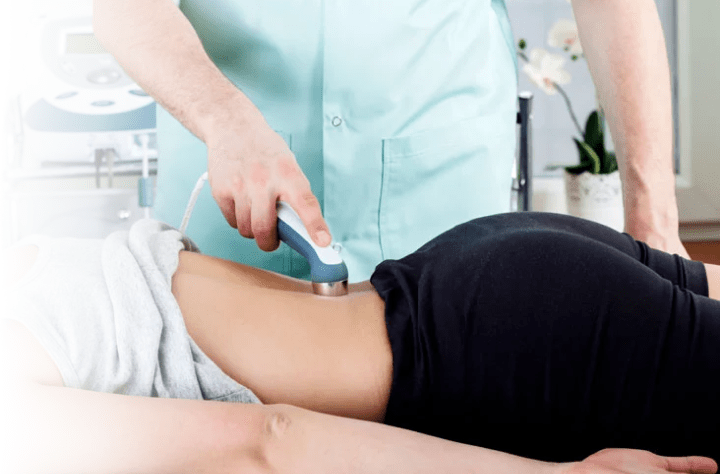 What Research Shows
LLLT EFFECTIVENESS FOR VARIOUS CONDITIONS
Several studies have shown the effectiveness of LLLT for various conditions. For example, a review of 27 randomized controlled trials found that LLLT was effective in reducing pain and disability in patients with chronic low back pain. Another study found that LLLT was as effective as non-steroidal anti-inflammatory drugs (NSAIDs) in reducing pain and inflammation in patients with osteoarthritis of the knee.
Sally's Experience with LLLT
CHRONIC NECK PAIN RELEIVED WITH LLLT SESSIONS
Let's say Sally is a middle-aged woman who suffers from chronic neck pain due to a car accident. She has tried various treatments, such as painkillers, physical therapy, and chiropractic, but the pain persists. Her doctor recommends Low-Level Light Therapy as an alternative therapy. Sally agrees to try it and undergoes several sessions of LLLT.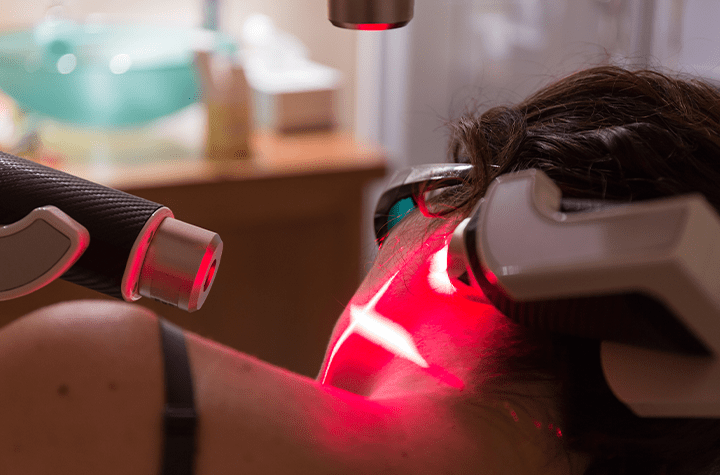 TREATMENT PROCESS
PAINLESS, CUSTOMIZED, RELAXING LLLT TREATMENT
During the treatment, Sally lies down on a comfortable table while a therapist uses a handheld device to apply the laser to her neck. The therapist adjusts the wavelength and intensity of the laser to match Sally's specific condition. Sally feels no discomfort or pain during the treatment, which lasts for about 15 to 30 minutes. After the treatment, Sally reports feeling a mild warming sensation in her neck and a sense of relaxation.
Significant Improvement
EFFECTIVE LLLT TREATMENT BENEFITS SALLY'S NECK PAIN
Over the next few days, Sally notices a significant improvement in her neck pain. She can turn her head more easily and perform her daily activities without discomfort. Sally continues to receive LLLT for several weeks, and her pain gradually diminishes. She also experiences other benefits, such as improved sleep, reduced stress, and increased energy.
Faster Recovery Time
IDEAL FOR CHRONIC PAIN SUFFERERS
LLLT can help speed up the recovery time after activities by promoting tissue repair and reducing inflammation. A study published in the International Journal of Sports Medicine found that LLLT reduced inflammation and promoted tissue repair in athletes with Achilles tendon injuries. Another study found that LLLT reduced recovery time after intense exercise in a group of male athletes.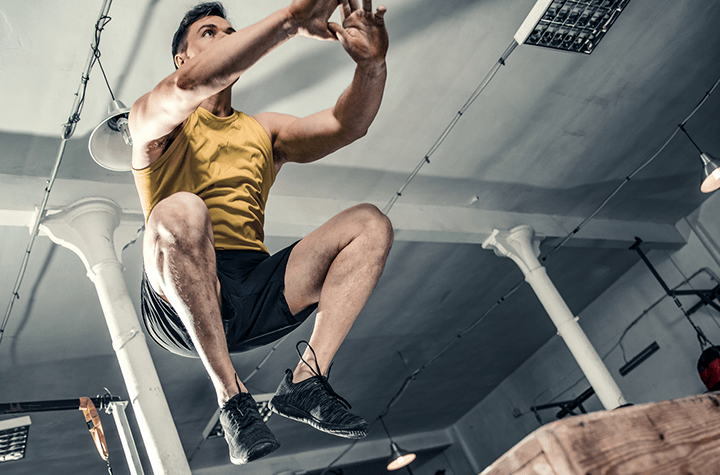 Enhanced Performance
LLLT ENHANCES PERFORMANCE & REDUCES FATIGUE
LLLT can also enhance athletic performance by reducing fatigue and improving muscle function. A study published in the Journal of Strength and Conditioning Research found that LLLT improved sprint performance and vertical jump height in a group of male athletes.
Pro Athletes who use LLLT
PROFESSIONAL ATHLETES' RECOVERY AND PERFORMANCE
Several professional athletes have spoken publicly about the benefits of LLLT for their recovery and performance. For example, NFL quarterback Tom Brady has used LLLT to enhance his muscle recovery and reduce soreness. UFC fighter Conor McGregor has also used LLLT for recovery after his fights.
Research on LLLT & Athletes
STUDIES SHOW LLLT ENHANCES ATHLETIC PERFORMANCE
Several studies have investigated the effects of LLLT on athletic performance and recovery. For example, a study published in the Journal of Strength and Conditioning Research found that LLLT improved muscle recovery and reduced muscle soreness after a strenuous workout. Another study published in the Journal of Athletic Training found that LLLT reduced muscle fatigue and improved muscle performance in a group of female athletes.
EXPERIENCE THE SERVICE
LOW LEVEL LASER THERAPY FOR THE HEALTH OF YOUR BODY
At Healthy Beings, we are committed to providing you with the highest quality Therapy. Low-Level Light Ttherapy can be an effective tool for athletes to enhance their recovery process after activities. It can reduce muscle soreness, inflammation, and promote tissue repair, allowing athletes to perform at their best. Our experienced team of medical professionals will work with you to customize a treatment plan that meets your individual needs. So why wait? Schedule an appointment today and experience the benefits of Low-Level Laser Therapy for yourself!
Benefits
Pain relief
Faster healing
Increased circulation
Reduced inflammation
Improved range of motion
Non-invasive treatment
Get in touch
SCHEDULE AN APPOINTMENT
Our scheduling team will respond to your request within 24 hours to confirm your appointment or answer any questions.