H-Wave
Revolutionize your pain management with H-Wave technology - a drug-free, non-invasive therapy that uses patented electrical signals to reduce pain, promote healing, and improve function for long-lasting relief.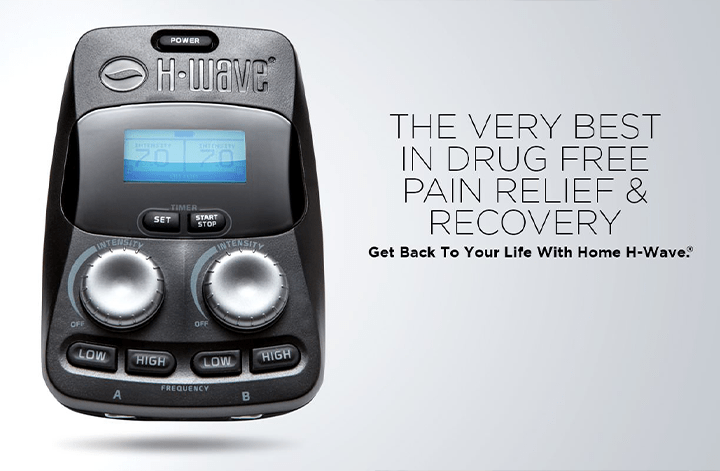 We Offer H-Wave Therapy
REVITALIZE WITH H-WAVE: A COMPREHENSIVE GUIDE
Welcome to Healthy Beings, where we offer a variety of wellness services including H-Wave therapy. H-Wave therapy has been growing in popularity due to its numerous health benefits, particularly for individuals dealing with chronic pain. On this page, we will discuss the benefits of H-Wave therapy, explain how it works, provide real-world examples of athletes who have used it, and encourage you to come in and experience the benefits for yourself.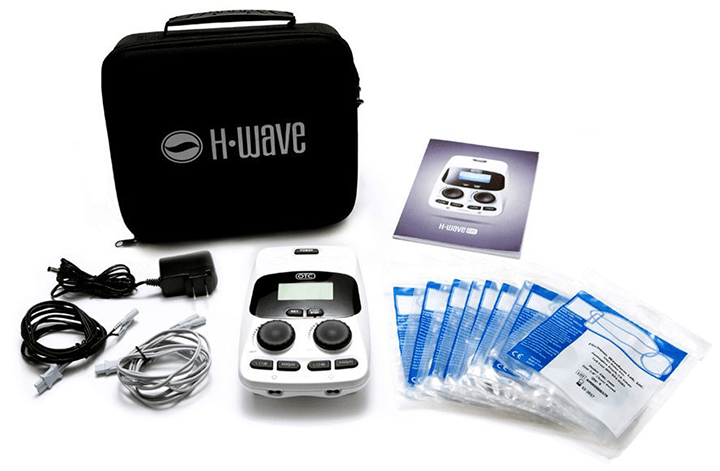 H-Wave Therapy
BENEFITS FOR REDUCING PAIN
Experience the life-changing benefits of H-Wave therapy at Healthy Beings. Our state-of-the-art technology targets chronic pain, reduces inflammation, speeds up recovery, and enhances athletic performance. Don't let pain hold you back - book your appointment now and start feeling your best.
Pain relief
Faster healing
Improved circulation
Muscle relaxation

Session: 30-Minutes
RETAIL PRICE $45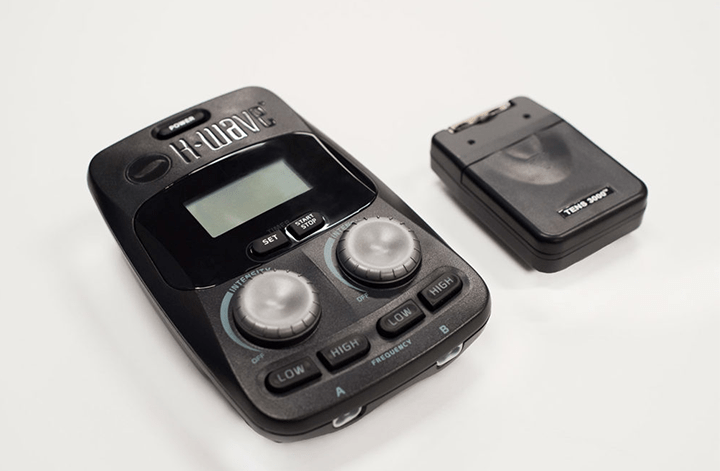 What is H-Wave Therapy?
REVOLUTIONARY FOR CHRONIC PAIN & ATHLETES
H-Wave therapy is a non-invasive therapy that uses electrical stimulation to help reduce pain and promote healing in the body. It is particularly effective in treating chronic pain, but can also be used to aid in the recovery process for athletes.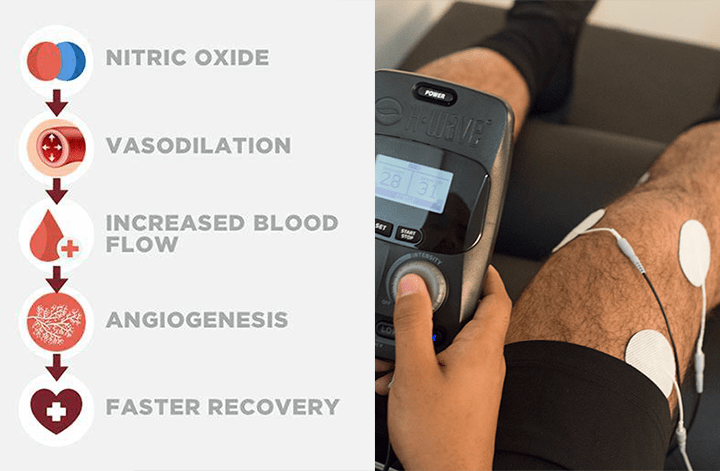 How Does H-Wave Work?
ELECRTICAL HEALING: HOW H-WAVE THERAPY WORKS
H-Wave therapy is a non-invasive treatment that works by using electrical stimulation to activate deep tissue in the body, promoting blood flow and reducing pain and inflammation. This therapy mimics the natural electrical signals produced by the body, which can improve overall function and reduce pain levels. Unlike other invasive treatments, H-Wave therapy does not require surgery or medication, making it a safe and effective option for those seeking relief from chronic pain or seeking to aid in their recovery process.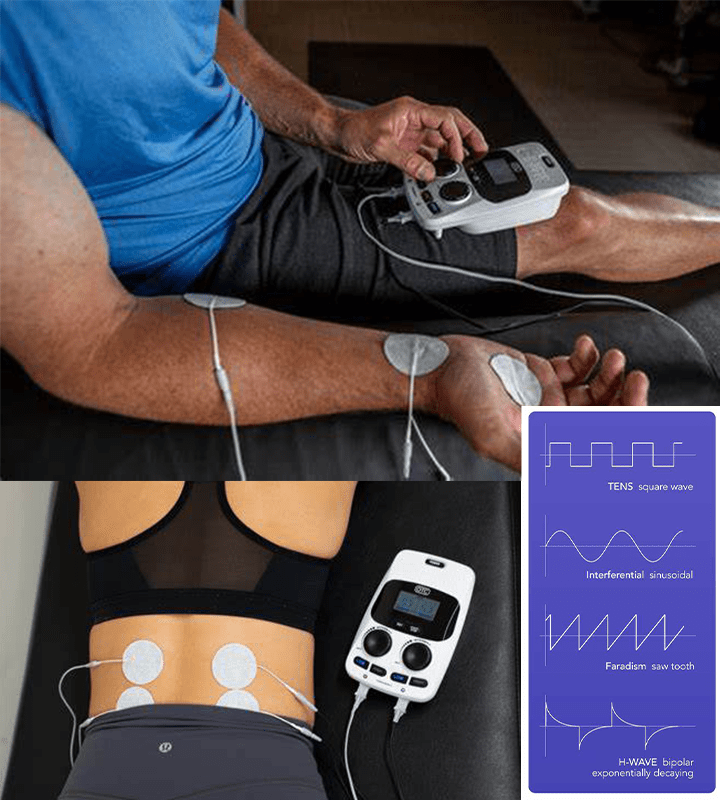 Benefits of H-Wave Therapy
AMAZING BENEFITS WITH THE USE OF H-WAVE THERAPY
Experience relief from chronic pain, improved mobility, faster recovery, and reduced dependence on medication with our H-Wave therapy. Say goodbye to harmful side effects and hello to a better quality of life.

1 Pain Reduction: H-Wave therapy has been shown to be effective in reducing pain caused by a variety of conditions, including chronic pain, back pain, and joint pain.

2 Improved Mobility: H-Wave therapy can help improve range of motion and mobility, particularly in individuals with chronic pain.

3 Faster Recovery: H-Wave therapy has been shown to promote faster recovery from injuries and surgeries.

4 Reduced Dependence on Medication: H-Wave therapy can help reduce the need for pain medication, which can have harmful side effects and lead to addiction.
Research Shows
EXPERT TESTIMONIALS ON H-WAVE THERAPY BENEFITS
H-Wave therapy is a non-invasive and drug-free treatment that uses electrical stimulation to reduce pain and inflammation, improve mobility, and promote healing. According to a study published in the Journal of Back and Musculoskeletal Rehabilitation, H-Wave therapy resulted in significant pain reduction and improved function in individuals with chronic low back pain.

Dr. Andrew Elkwood, a board-certified plastic surgeon and expert in regenerative medicine, states that "H-Wave therapy has been incredibly beneficial for my patients with chronic pain, and I highly recommend it as a safe and effective treatment option." With its numerous benefits and minimal side effects, H-Wave therapy is an excellent choice for those seeking natural pain relief and improved overall function.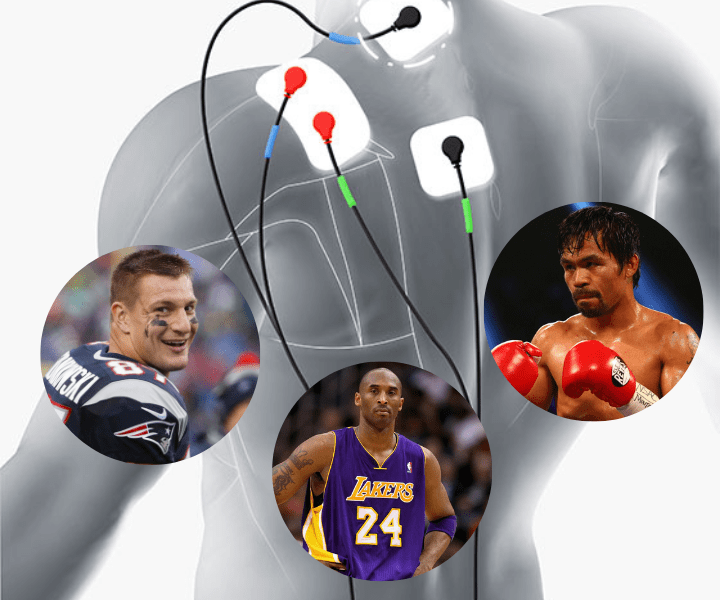 Athletes Who UseD H-Wave
Professional athletes are known for pushing their bodies to the limit, resulting in a higher risk of injuries and chronic pain. To stay at the top of their game, many athletes turn to H-Wave therapy as a safe and effective alternative to traditional pain management techniques.

Rob Gronkowski: The professional football player has used H-Wave therapy to aid in his recovery from multiple surgeries and injuries.

Manny Pacquiao: The professional boxer has used H-Wave therapy to aid in his recovery and reduce pain.

Kobe Bryant: The professional basketball player has used H-Wave therapy to aid in his recovery from injuries and surgeries.
EXPERIENCE THE SERVICE
H-WAVE THERAPY FOR THE HEALTH OF YOUR BODY
At Healthy Beings, we offer H-Wave therapy to help our clients reduce pain and improve overall function. Our experienced staff is here to guide you through the process and answer any questions you may have. Don't hesitate to book your appointment today and start experiencing the benefits of H-Wave therapy for yourself.
Benefits
Pain reduction
Drug-free solution
Improved mobility
Faster recovery
Improved function
Non-invasive treatment
Get in touch
SCHEDULE AN APPOINTMENT
Our scheduling team will respond to your request within 24 hours to confirm your appointment or answer any questions.