At-home collection. Meaningful insights. Personalized plan.

Don't take your fertility health for granted. This at-home blood and saliva test provides insights by measuring a woman's reproductive hormones, thyroid function, and stress responses. Results include a personalized health plan.
Fertility Test
This at-home test can provide insights into several factors that affect female fertility. Whether you are ready to conceive now or just want to plan for this future, this test can provide information to help you support your body and take steps towards your future. 
You should take this test if you:
Plan to get pregnant someday

Are trying to conceive

Have irregular or no periods

Want to understand your hormones

Have family thyroid issues
Fertility Test 101
Human fertility is measured by being able to successfully conceive. Infertility is considered to be the inability of a couple to conceive after one year of attempting to do so. Although infertility can cause significant feelings of hopelessness, fortunately there are actions that can be taken to improve fertility. Thorne's fertility panel is a biological assessment that reflects the convergence of biological, psychological, and social elements. This biological assessment, when combined with proven methods to improve your diet, nutrition, stress, sleep, activity level, and other primary factors, can both empower you and promote healthy fertility.
Fertility is measured by success in the natural capability of humans to conceive. Human fertility is a complex process that can be affected by a wide array of factors. Alterations in the biological status of these factors can contribute to infertility. Factors that have been shown to effect fertility include the following:
Age

Disease or disorders

Genetics

Hormones

Sleep patterns

Stress

Nutrition

Environmental toxins

Exercise and activity level

Weight and level of body fat
Although infertility is relatively common, couples are nevertheless confronted with medical, psychological, and financial uncertainty. This uncertainty is highly frustrating and can lead to feelings of despair and powerlessness.
Often, infertility is due to hormonal imbalances. Symptoms attributable to a hormonal imbalance can include the following:
Skin changes, including acne above normal levels

Changes in sex drive and desire

Dark hair growth on the lips, chest, and chin

Loss or thinning of hair

Unexplained weight gain
Fortunately, there are proven, evidence-based steps that can be taken to improve biological fertility function. The first step is assessing your biological status, on both the cellular level and the lifestyle level. The resulting fertility profile will reveal the status of three categories of biological markers that have been shown to alter fertility on a biological level. The three categories of biological markers are:
Reproductive Hormones – Estradiol, progesterone, testosterone, sex hormone-binding globulin (SHBG), follicle stimulating hormone (FSH), and luteinizing hormone (LH)

Thyroid Hormones – Thyroid stimulating Hormone (TSH), T3, T4, and TPOAb

Stress Hormones – Cortisol (measured for rhythm at four time-points) and dehydroepiandrosterone (DHEA)
These three categories of biological markers ‐ Reproductive, Thyroid, and Stress Hormones ‐ are assessed in the Thorne fertility panel. These hormones work synergistically in your body to promote or impede fertility. Certain of these biological markers, when they are out of normal range, will contribute to infertility more than others.
The test panels in Thorne's fertility test are not intended to be used as diagnostic measures relative to determining your fertility. Instead, this test is intended as a screening tool, that is within your control, that will reveal patterns in your hormones that might be influencing your fertility. With a knowledge of these patterns, you can take basic supportive steps and more precisely communicate with your health-care practitioner.
Potential Symptoms
Symptoms attributable to an imbalance of fertility-related hormones can include the following:
Skin changes, including acne above normal levels

Male-pattern hair growth 

Loss or thinning of hair

Unexplained weight gain

Breast tenderness

Hot flashes

Night sweats 

Reduced libido 

Mood changes 

Irregular or no periods 

Sleep difficulty   

Fatigue 

Infertility 
Biomarkers
Key Biomarkers Measured via Blood Spot: 
Estradiol, the most powerful and active form of estrogen, plays a critical role in fertility. Estrogen stimulates maturation of the egg and, after ovulation, causes the uterine lining to thicken in preparation for implantation of a fertilized egg.
Progesterone is released by the ovaries in response to ovulation. After ovulation, progesterone levels rise and prepare the uterine lining to accept and nourish a possible fertilized egg. Low levels can make it difficult to sustain pregnancy.
Testosterone, typically thought of as the "male hormone," is also needed in small quantities for good reproductive health in women. Too little or too much testosterone can disrupt fertility.
Sex hormone-binding globulin (SHBG) is a protein produced in the liver that binds to testosterone (and estrogen to a lesser extent). Binding to these hormones reduces their availability and can result in relative deficiencies or excesses that can affect fertility.
Follicle stimulating hormone (FSH) is secreted by the pituitary gland in the brain and stimulates growth of ovarian follicles, maturation of an egg within the follicle, and secretion of estrogen and progesterone. It is instrumental in helping maintain the menstrual cycle.
Luteinizing hormone (LH) is the trigger hormone for ovulation. When an ovarian follicle secretes enough estrogen, a surge of LH stimulates release of an egg and development of the corpus luteum (what the ovarian follicle turns into after ovulation).
Thyroid Stimulating Hormone (TSH) is a hormone secreted by the pituitary that stimulates production of T4 and T3 in the thyroid gland. Abnormal levels of TSH are often the first sign of thyroid dysfunction and can contribute to problems with fertility.
Triiodothyronine (T3) is one of the two major hormones made by the thyroid gland. It helps regulate metabolism and influence reproduction – too much or too little can interfere with the menstrual cycle and prevent normal ovulation.
Free T4 is the hormone made in the greatest quantity by the thyroid gland. It can also be converted to T3. It has the same actions as T3, but it's not as strong.
Thyroid peroxidase antibodies (TPOAbs) are proteins that can attack thyroid peroxidase (TPO), an important enzyme for thyroid hormone production. The presence of TPOAbs in large enough amounts can (but not definitively) indicate an autoimmune-related thyroid dysfunction.
Cortisol is a hormone secreted by the adrenal glands. It has wide-ranging effects on regulating metabolism, immunity, and the body's response to stress. Abnormal levels can have a negative impact on fertility.
DHEA, Dehydroepiandrosterone sulfate is produced in the adrenal glands and can be converted to testosterone and estrogen in other tissues. Too little or too much DHEA can interfere with fertility. 
Shipping
*US law prohibits shipment of lab products to New York State, Rhode Island, and Kansas.
*Attention International Clients: Return shipping is not included with this lab purchase. Please check with your country's regulations on shipping your sample back to US.
How it Works:
1. Delivered
After purchasing, all home-test materials are delivered to your door
2. Locate Barcode
Locate the barcode included with your kit and enter at thorne.com
3. Complete Collection
Complete your test collection and return with prepaid shipping
4. Reviewed
Your results are reviewed by an independent board-certified physician
5. Receive Results
You'll receive your results & personalized recommendations within 7-9 days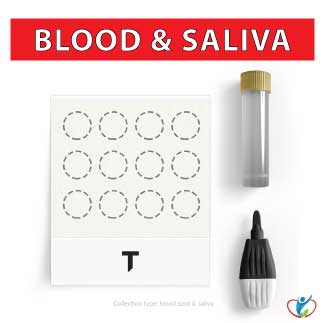 Choosing a selection results in a full page refresh.
Opens in a new window.