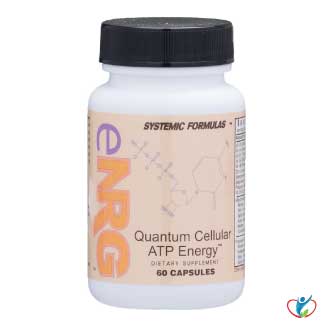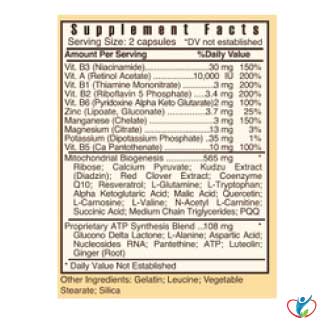 *This product has been discontinued by Systemic Formulas*
Support your #athletelife #worklife #parentlife with ENRG. It provides key nutrients so your body can produce enough energy to dominate all the tasks in your day!
ENRG

Supplies key nutrients for the mitochondrial production of ATP (Adenosine Triphosphate), the chemical energy of life, coupled with herbalomic® botanicals that support the epigenetic cellular metabolism for the citric acid cycle as well as its beta oxidative processes. Contains essential nutrient PQQ. Supports Mitochondrial Biogenesis
Additional Information
ENRG
ATP (Adenosine Triphosphate) is the chemical energy of life required by every cell. Its mitochondrial production is dependent on glucose, oxygen, and a host of other nutrients that support cell membrane Beta Oxidation and Krebs Cycle processes. Its safe production is one of the essential "core cellular" processes for good health and youthful vitality. Science has identified key molecules in plants that are necessary for "mitochondrial biogenesis," – how mitochondria increase their numbers and ATP output. The simple equation is: more mitochondria equals more cellular energy; and to the human body, energy is everything!
Cell organelles, mitochondria, make ATP (Adenosine Triphosphate) – an adenine nucleotide bound to three phosphates. There is a wealth of energy stored in the bond between the second and third phosphate groups that fuels cellular chemical reactions. When the body needs energy, it cleaves this bond to form adenosine diphosphate (ADP) and a free phosphate molecule. At the core of the cells' abilities to perform their life functions, mitochondrial production of ATP is dependent on nutritional molecules for safe creation of ATP and its effective utilization
ENRG Benefits:
Nutritional support of normal cellular energy

Support healthy mitochondrial function

Enliven healthy brain function

Youthful vitality programs

Athletic endeavors "energy is everything!"
How to Use
How to Use:
Take 1-3 capsules up to twice a day, or as directed
Warnings
ALLERGY WARNINGS 
This product is contraindicated in an individual with a history of hypersensitivity to any of its ingredients. 
---
PREGNANCY WARNING
If pregnant consult your health professional before using this product. 
---
INTERACTIONS/CONTRAINDICATIONS
None known
Ingredient Information
Ingredient Amounts:
Servings Per Container: 30
Name

Amount

Vitamin B3 (Niacinamide)

30mg

Vitamin A (Retinol Acetate)

10,000IU

Vitamin B1 (Thiamine Mononitrate)

3mg

Vitamin B2 (Riboflavin 5 Phosphate)

3.4mg

Vitamin B6 (Pyridoxine Alpha Keto Glutarate)

2mg

Zinc (Lipoate, Gluconate)

3.7mg

Manganese (Chelate)

3mg

Magnesium (Citrate)

13mg

Potassium (Dipotassium Phosphate)

.35mg

Vitamin B5 (Ca Pantothenate

10mg

Mitochondrial Biogenesis: Ribose, Calcium Pyruvate, Kudzu Extract (Diadzin), Red Clover Extract, Coenzyme Q10, Resveratrol, L-Glutamine, L-Tryptophan, Alpha Ketoglutaric Acid, Malic Acid, Quercetin, L-Carnosine, L-Valine, N-Acetyl L-Carnitine, Succinic Acid, Medium Chain Triglycerides, PQQ

565mg

Proprietary ATP Synthesis Blend: Glucono Delta Lactone, L-Alanine, Aspartic Acid, Nucleosides RNA, Pantethine, ATP, Luteolin, Ginger (Root)

108mg

Other Ingredients: Gelatin, Leucine, Vegetable Stearate, Silica