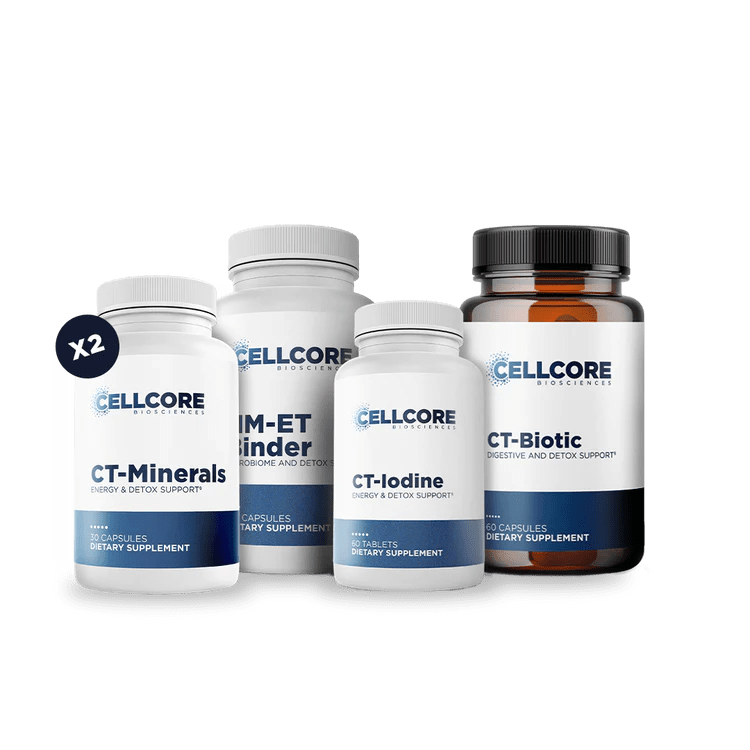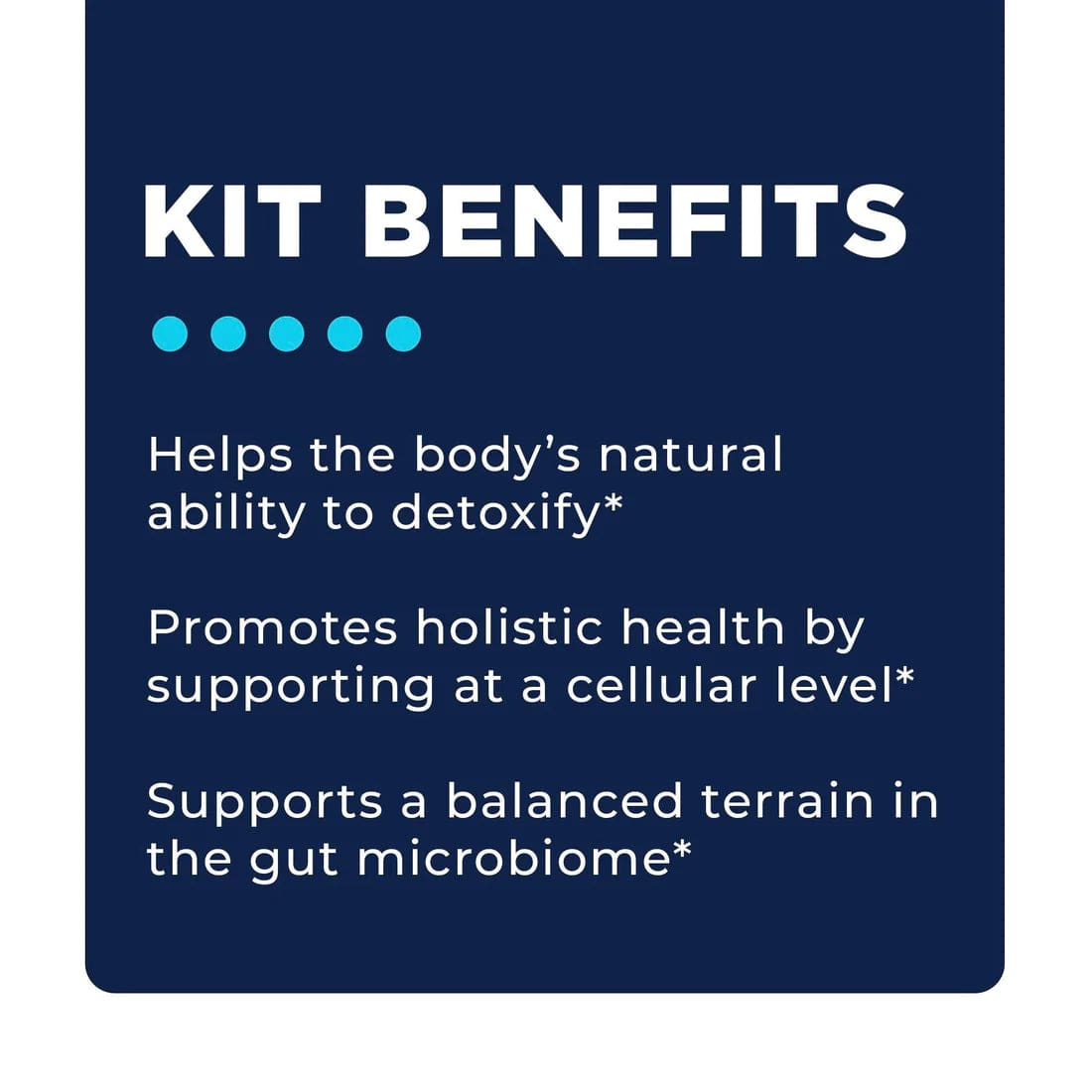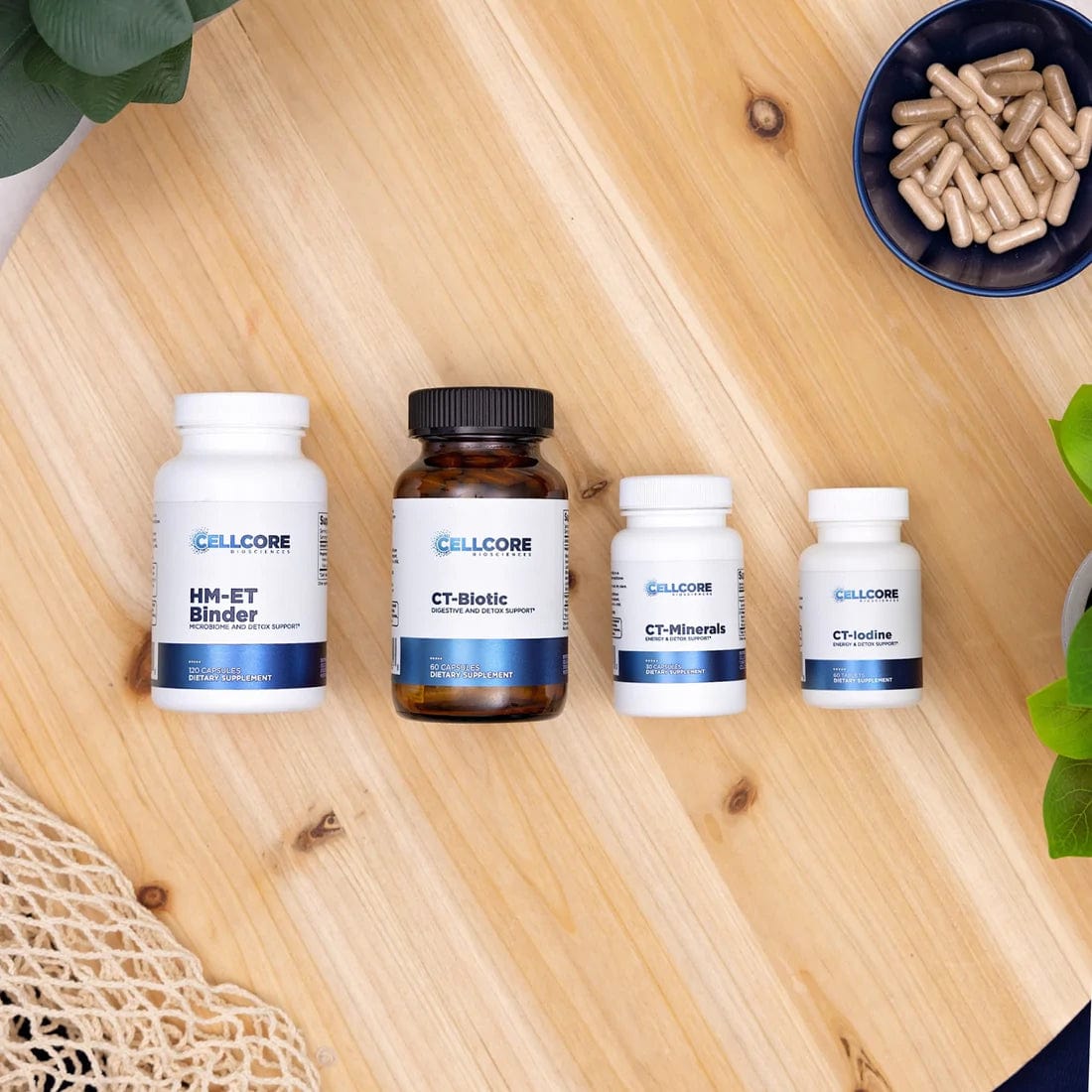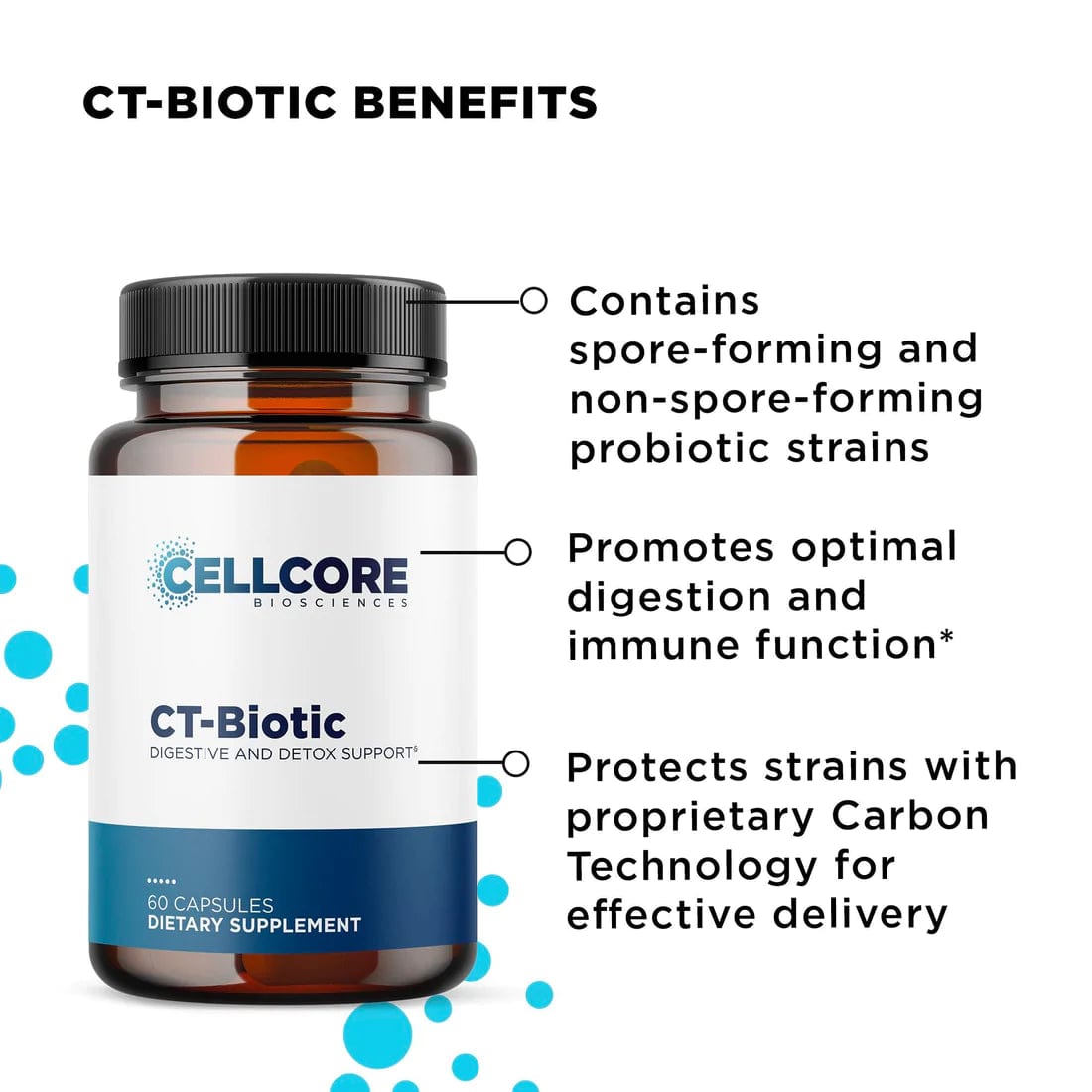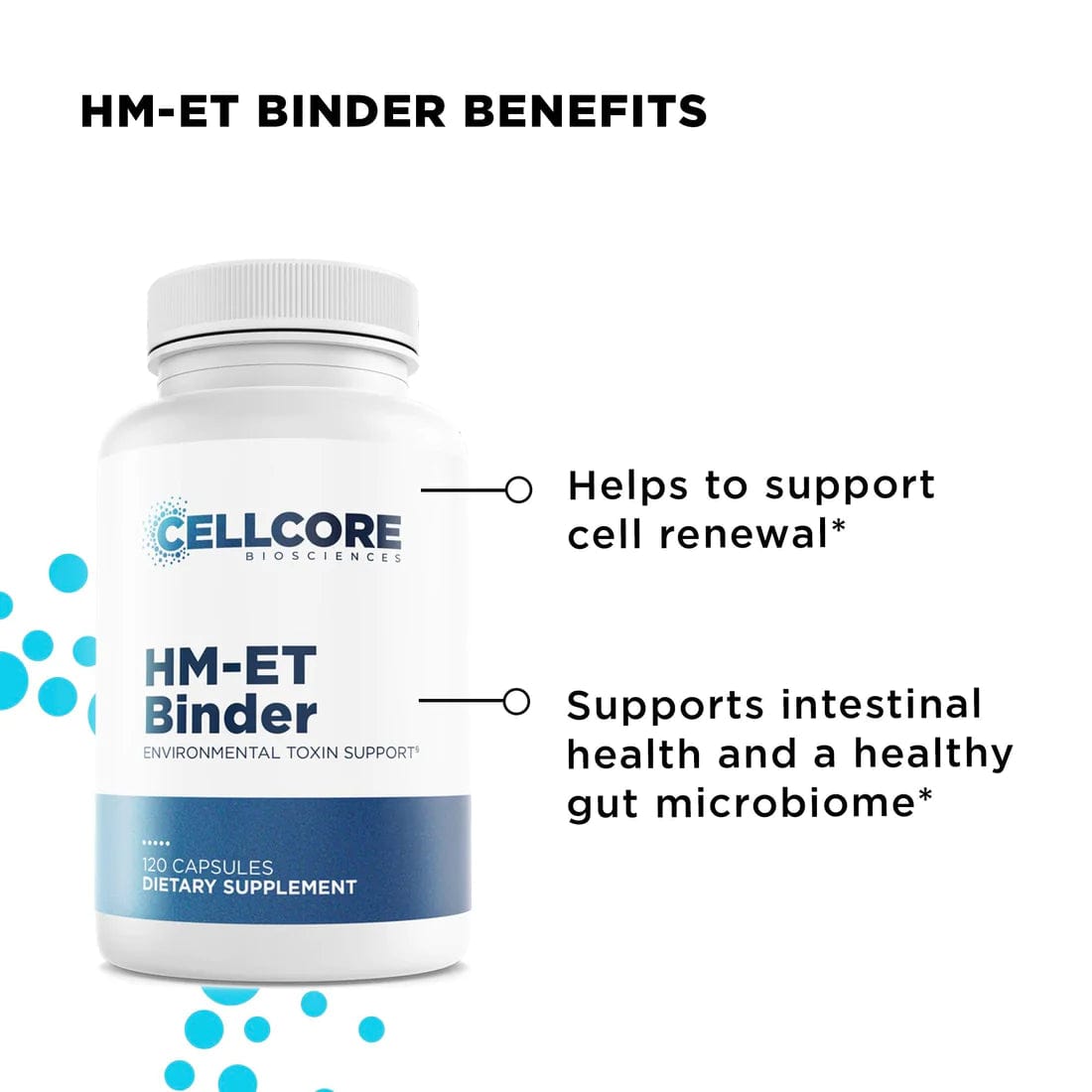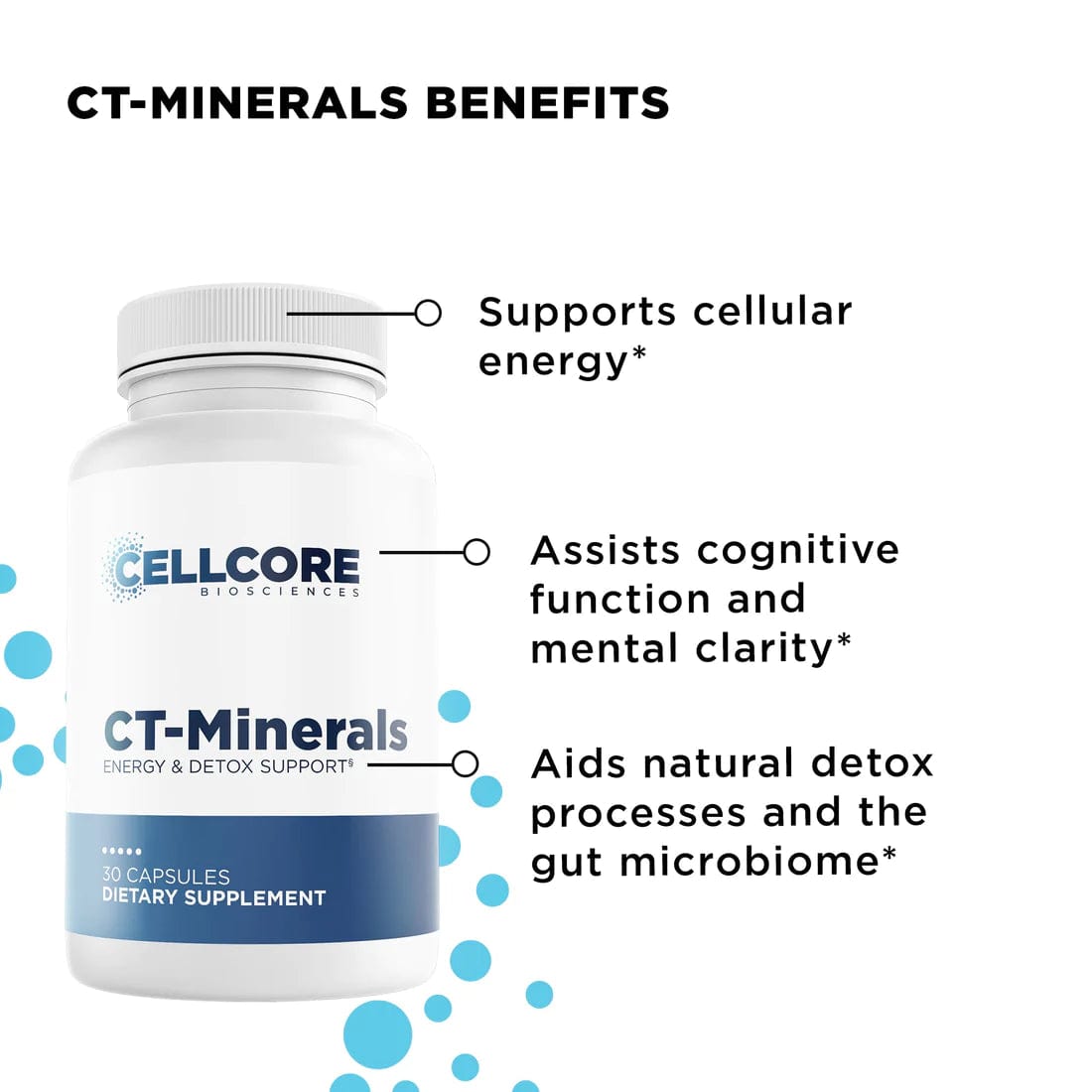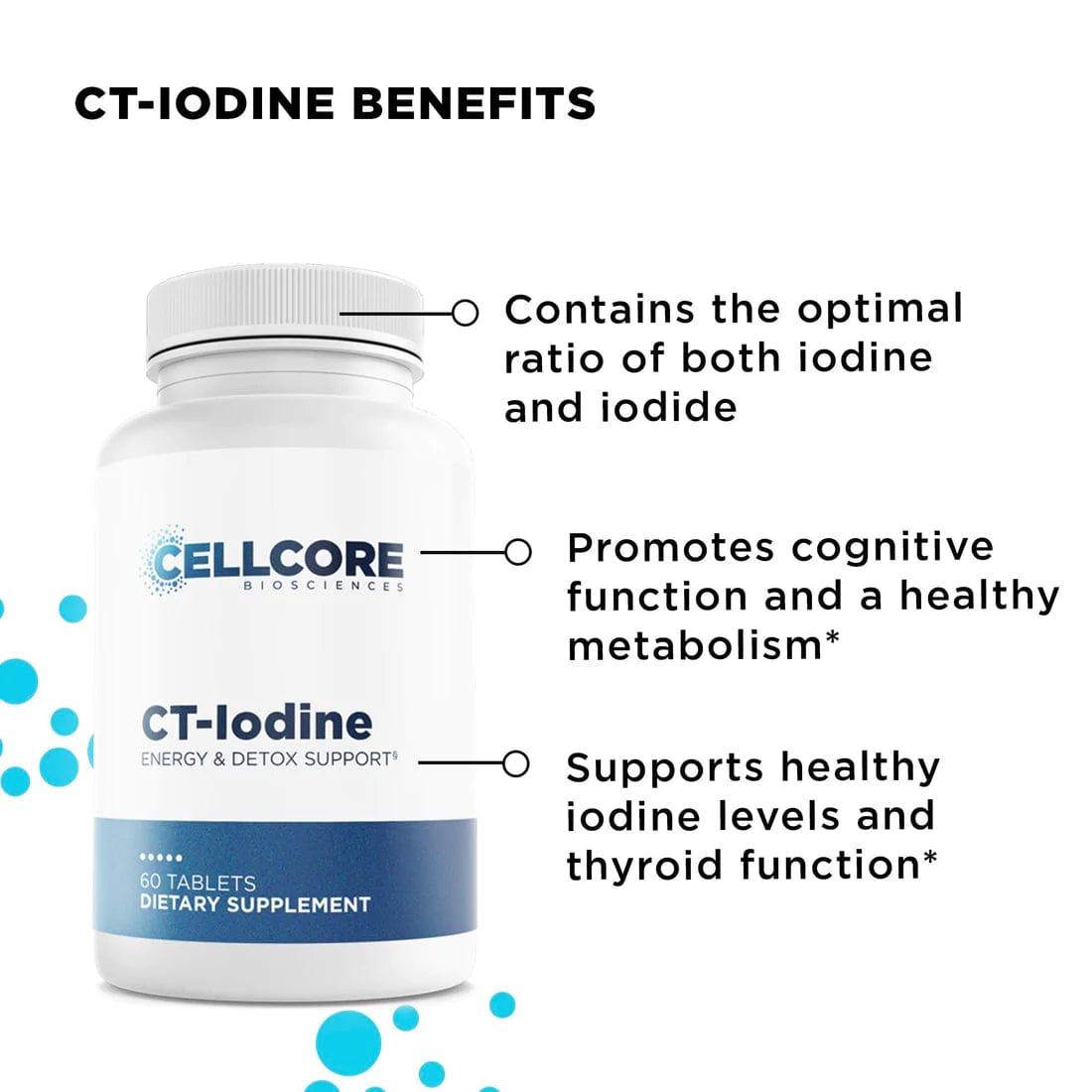 Detox Support Kit
This kit is designed to assist in the body's natural detoxification processes and support system balance.* It includes four of our most potent supplements for cleansing support that build upon one another: CT-Biotic, CT-Iodine, CT-Minerals, and HM-ET Binder.
Together, these supplements support optimal liver, thyroid, and kidney function and a healthy gut microbiome.* They also help with energy production and immune function.*
Note: Before starting on the Detox Support Kit, we recommend completing one month of the Jumpstart Kit first (with the option of also doing the Para Kit beforehand). This will ensure drainage pathways and mitochondria are properly prepared before assisting in detoxification, which can help minimize unwanted reactions.*
Formulated with Carbon Technology
Carbon Technology is a proprietary blend of fulvic acids that support cellular repair and the body's natural ability to detoxify.* With a low pH, Carbon Technology also helps protect ingredients from being digested by stomach acid, so that they remain intact as they enter the desired location in the body.
What's Included
CT-BIOTIC:
A blend of spore-forming and non-spore-forming bacteria combined with Carbon Technology. It provides 11 bacterial strains that are essential for supporting detoxification, digestive function, and immunity.*
CT-MINERALS:
To support energy production, immunity, cellular repair, mental clarity, and the body's natural detoxification processes.*
CT-IODINE:
An optimal ratio of iodine to iodide supports healthy thyroid function, energy production, and the body's natural detoxification processes.*
HM-ET BINDER:
One of our strongest binders, HM-ET assists the body with its natural detoxification processes while supporting cellular metabolism and repair.* By supporting detoxification, HM-ET also promotes healthy kidney and liver function.*
KEY BENEFITS
Helps the body's natural ability to detoxify* Promotes holistic health by supporting at a cellular level* Supports a balanced terrain in the gut microbiome*
Key Ingredients
CT-Biotic
Probiotic Blend (3.5 Billion CFU)** 300 mg * Bifidobacterium infantis, Saccharomyces boulardii, Lactobacillus rhamnosus, Lactobacillus reuteri, Bacillus subtilis DE111®, Bifidobacterium bifidum, Lactobacillus plantarum, Lactobacillus acidophilus, Lactobacillus casei, Bacillus coagulans, Bacillus clausii CSI08 MuniSpore®
Other ingredients: HPMC (Capsule), Polysaccharides, Rice Dextrin, Microcrystalline Cellulose.
CT-Minerals
Magnesium (as Magnesium Malate, Magnesium Acetyl-Taurate), CT-Mineral Blend BioActive Carbon® BC1 (Humic Shale [containing Fulvic Acid]), L-Leucine, Polysaccharides (as Microcrystalline Cellulose)
Other ingredients: Vegetable Cellulose (Capsule).
CT-Iodine
Iodine (from Potassium Iodide) 7.5 mg 5000% Iodine 5 mg 3333% Fulvic Acid 20 mcg *
Other ingredients: Silicified Microcrystalline Cellulose, Stearic Acid, Refined Pharmaceutical Glaze, Polysaccharides, Magnesium Stearate
Proprietary Blend *Daily Value not established.
Other ingredients: Polysaccharides, Microcrystalline Cellulose, Vegetable Capsule (Hydroxypropyl Methylcellulose). 388 mg*

HM-ET Binder
Humic Acid, Broccoli Sprout Extract, Fulvic Acid, Micronized Zeolite Clinoptilolite


Other ingredients: Polysaccharides, Microcrystalline Cellulose, Vegetable Capsule (Hydroxypropyl Methylcellulose).
WARNING
Please consult your healthcare practitioner before use if you are pregnant, breastfeeding, or considering use for a child.