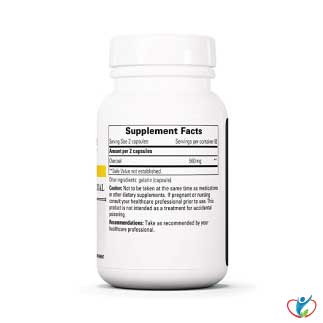 For the removal of waste and toxins in the digestive tract

Activated Charcoal
Activated Charcoal is highly porous and can adsorb unwanted substances, carrying them out of the digestive system.
Additional Information

Benefits Include:
Alleviates gas and bloating

Binds and removes molds, heavy metals, toxins

Reduces high cholesterol

Anti-aging

Cleanses the intestines 

Whitens teeth

Skin health and acne treatment

Detoxifying
Our charcoal is from an organic source that is both vegan and kosher. The actual source is coconut shells. A steam process is used to make the charcoal more porous.
How to Use
Activated Charcoal Directions and/or Dosage
Take as recommended by your healthcare professional.
Warnings
ALLERGY WARNING
This product is contraindicated in an individual with a history of hypersensitivity to any of its ingredients. 
---
PREGNANCY WARNING
If pregnant, nursing, or trying to conceive, consult your health professional before using this product. 
---
INTERACTIONS/CONTRAINDICATIONS
Not to be taken at the same time as medications or other dietary supplements.This product is not intended as a treatment for accidental poisoning. Keep out of reach of children.
Taking Activated Charcoal at the same time as Ipecac reduces its effectiveness. 
Ingredient Information
Ingredient Amounts: 
Servings Per Container: 20
Name

Amount

Charcoal

560mg


Other Ingredients: Gelatin