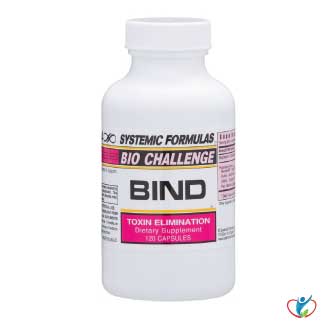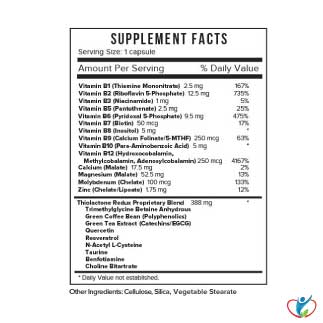 This formula provides toxin and heavy metal binding matrices such as activated carbon and purified humates to support natural toxin elimination.

Binds in a matrix that cannot be reabsorbed via the Enterohepatic circulation cycle. Commonly referred to as a "drainage" support for the G.I. tract.
BIND
This formula provides charcoal in a "super activated" form which means that it has a huge surface due to its honeycomb structure. Featuring all the virtues of charcoal in a superior delivery system, super activated charcoal can absorb 300 times its molecular weight and thus is often used as a "drainage" support for what the gallbladder introduces to the intestines as well as for normal intestinal purification processes.
Records show that humans have used charcoal as a purifying agent for over 4000 years. Today, it is used in water purifiers, air purifiers, and in dietary supplements. Internal applications include it being a neutralizer for poison, dentifrice, absorber of gas (charcoal used to be called a "bowel sweetener") and help for microbial concerns
BIND Benefits:
Intestinal purification support
Reduce gas
Bio-toxin cleansing from bowel
Intestinal "drainage" support
Intestinal heavy metal chelator
Prevents retoxification
Favorably impacts blood lipid distribution via binding the bile complex
Helps abdominal bloating
Food poisoning, chemical poisoning
Additional Information
Dr. Dan Pompa, a torchbearer nutritionally supporting the cells' normal purification processes where glutathione facilitates cells to remove acquired heavy metals and chemicals: plus super activated carbon to catch the expelled metals/chemicals that are released into the intestines via the gallbladder preventing resorption, brought the concept to Dr. Shayne Morris to develop the state of the art IDS System. Once BIND became available, practitioners soon found many uses for super-activated carbon in clinical practice, making BIND a product in demand.


How to Use
Take 2-4 capsules at bedtime for 1-3 months.
Take 2 hours away from food, supplements, or medications.
Key Ingredients
Servings Per Container: 120
Name

Amount

Vitamin B1 (Thiamine Mononitrate)

2.5mg

Vitamin B2 (Riboflavin 5-Phosphate)

12.5mg

Vitamin B3 (Niacinamide)

1mg

Vitamin B5 (Pantothenate)

2.5mg

Vitamin B6 (Pyridoxal 5-Phosphate)

9.5mg

Vitamin B7 (Biotin)

50mcg

Vitamin B8 (Inositol)

5mg

Vitamin B9 (Calcium Folinate/5-MTHF)

250mcg

Vitamin B10 (Para-Aminobenzoic Acid)

5mg

Vitamin B12 (Hydroxycobalamin, Methylcobalamin, Adenosylcobalamin)

250mcg

Calcium (Malate)

17.5mg

Magnesium (Malate)

52.5mg

Molybdenum (Chelate)

100mcg




Zinc (Chelate/Lipoate)

1.75mg

Thiolactone Redux Proprietary Blend: Trimethylglycine Betaine Anhydrous, Green Coffee Bean (Polyphenolics), Green Tea Extract (Catechins/EGCG), Quercetin, Resveratrol, N-Acetyl L-Cysteine, Taurine, Benfotiamine, Choline Bitartrate

388mg

Other Ingredients: Cellulose, Silica, Vegetable Stearate
ALLERGY WARNINGS
This product is contraindicated in an individual with a history of hypersensitivity to any of its ingredients.
---
PREGNANCY WARNING
If pregnant, nursing, or trying to conceive, consult your health professional before using this product.
---
INTERACTIONS/CONTRAINDICATIONS
Do not take at the same time as nutritional (mineral) supplementation or with prescription medications to avoid binding with those elements and molecules. Good practice to take by itself, before bed.